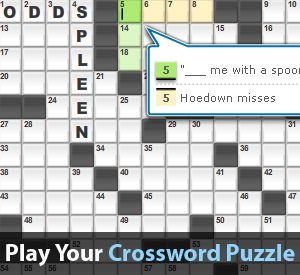 Now you don't have to wait until Sunday to play the next Sunday Crossword Puzzle. Here at Webcrosswords.com have have collected hundreds of free Sunday Crosswords so sit back tie on your thinking cap and enjoy because here, every day is Sunday!
A Tradition: Sunday Crossword Puzzles
Doing the crossword puzzle on a Sunday morning has become a tradition. These crossword puzzles evoke wonderfully lazy images of working on clues over morning coffee, or a reliable loved one who always chimes in on the clues that don't come to mind. People who create crossword puzzles are formally called "cruciverbalists," but what do we call our crossword puzzle enthusiasts?
The first crossword puzzles were created in the late 19th century, but by the early 20th century they were beginning to appear published in newspapers. The Boston Globe published its first crossword in 1917, and by the 1920s crosswords became a full-blown craze. Though a major publisher of crossword puzzles during our contemporary times, The New York Times was slow to hop on the bandwagon. Their staff opposed to crosswords, considering them a frivolous waste of newspaper space. It wasn't until 1942 when the New York Times published its first crossword puzzle.
Now, the Ne York Times produces some of the most prestigious crossword puzzles available, including its Sunday crossword puzzles into the New York Times Magazine insert to the Sunday paper. The challenge of the puzzles are intended to scale up over the course of the week, with the Friday and Saturday crossword puzzles providing the most challenge. In The New York Times, the challenge of a crossword puzzle is denoted with stars, the greater number of stars, the greater the challenge. In addition to the Sunday crossword puzzles, The New York Times also provides an "alternative" puzzle on Sundays and the type of the puzzle changes every week. The author, or "cruciverbalist," who holds the records for authoring the greatest number of Sunday crossword puzzles for the New York Times is Jack Luzzato, who single-handedly constructed 119 puzzles. In addition to the New York Times, the Sunday crossword puzzle is syndicated in over 300 other newspapers. The current In addition to the New York Times, other papers that famously produce Sunday crossword puzzles are The Los Angeles Times and USA Today, and The Washington Post, The Wall Street Journal and even The Onion.
Often the clues to a crossword puzzle are quirky or indirect, adding to the challenge of the puzzle. The clues to a crossword puzzle may also all be connected by a single theme, such as around a holiday or a celebrity's birthday. Sunday crossword puzzles are an iconic tradition in the United States.

Sunday Crossword

,
Category: Online Crosswords